---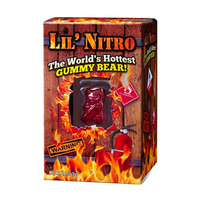 Flamethrower Candy | Lil' Nitro - The World's Hottest Gummy Bear
Introducing Lil' Nitro Gummy Bears, the ultimate fiery treat that will ignite your taste buds! These little firecrackers pack a powerful punch, delivering an intense heat experience that will challenge even the bravest of candy enthusiasts. Made with the world's spiciest chili extract, each gummy bear is infused with scorching heat, creating a thrilling adventure for your palate. Don't be fooled by their innocent size—these tiny warriors are not for the faint of heart! Indulge in the sizzling sensation as you embark on a mouth-watering journey of heat and flavour. Whether you're a spice aficionado seeking a new thrill or a daredevil looking to conquer the hottest edible challenge, Lil' Nitro Gummy Bears are your ultimate spicy companion. Get ready to test your limits and experience the blazing sensation that will leave you craving for more.
Size: 3g
Ingredients: Corn Syrup, Sugar, Water, Gelatin, Citric Acid, Natural and Artificial Flavor, 9 Million SHU Chili Extract, Red #40, Sodium Benzoate, Coconut oil, Carnauba Wax.
Please note: Lil' Nitro is heat sensitive. Please do not leave in your mailbox, nor order during periods of extreme heat. It is candy and it will melt.
Made in USA
Disclaimer: This product is used strictly at the purchaser's risk. This product must be handled with extreme caution. By purchasing this product, you affirm that you are aged 18 years old or older and you are not intoxicated or impaired in any way, and you're fully able to make a sound decision about the purchase of these product. You hereby agree and affirm you understand the dangers/ side effects associated with the consumption of extreme-heat products, and there-by release and disclaim Flamethrower Candy, Blonde Chilli and it's affiliates, it's employees, it's suppliers, distributors or manufacturers, from all liability in tort, contract or both, in relation to any damages or injuries, for any loss, however and/or whenever caused, relating to or arising directly or indirectly, from the use, consumption, ingestion, and/or contact of any bodily part or organ/s with this product.